Welcome to Carrier Chiropractic
Your Hillsboro Chiropractor
For more information or to schedule an appointment with our Hillsboro chiropractor
call (503) 726-7260 today!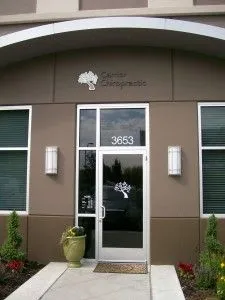 Healthy habits are difficult to start and maintain but they make all the difference to your body. You have probably heard growing up that eating right and daily exercise is the best thing for your body. Well, as a Chiropractor in Hillsboro I'm here to tell you with years of experience and training that this silly motto is still true today!
I will help you to improve your health, with small realistic goals. You don't need to change your whole life in one day. But making small steps every day will make the difference to your health.
We utilize state-of-the-art techniques and equipment
We provide high quality diagnostic and bio mechanical chiropractic care here at Carrier Chiropractic. We have effective patient education regarding stretching, strengthening, rehabilitation exercises, with postural and ergonomic recommendations for the home and office. Ultimately, we would like to share the benefits of integrated chiropractic care with everyone. We invite you to:
Come in for a free consultation
Try our fast and thorough service
Experience satisfaction in health care
We'll Answer Your Questions
Many people ask their Chiropractor, "Will it hurt?" Chiropractic adjustments are a very natural process that are painless. And, here at Carrier Chiropractic, we customize your health care plan to fit your needs! Call us today schedule an appointment and let's get started today!
At your first visit to Carrier Chiropractic, Dr. Scott Carrier will explain how chiropractic care works and give you a full evaluation to see if our chiropractic solutions are a good fit to address your needs. If there is a good fit, we can customize a plan of chiropractic care for your condition and health goals.
If you have not been to a chiropractor before and want to find out more, please contact us or call (503) 726-7260 to receive the answers to your questions from our experienced team. We also welcome referrals, so we invite you to share our chiropractic and wellness information with your friends and loved ones.
If you would like to stay informed about the latest in chiropractic care or if you want to start receiving free articles about health and wellness news, subscribe to our bi-weekly newsletter, even if you are not a patient. We also offer a member wellness area which includes our animated exercise videos, wellness articles, and other healthcare resources.
call (503) 726-7260 today!
Dr. Scott Carrier
Hillsboro Chiropractor | Carrier Chiropractic | (503) 726-7260
3653 NE John Olsen Ave
Hillsboro, OR 97124